Disclosure Policy
Basic Policy for Information Disclosure
Nomura Real Estate Master Fund, Inc. (NMF) is committed to disclosing its corporate information in a timely and accurate manner that conforms with legal and otherwise prescribed content and format requirements. Also, NMF strives to proactively communicate more robust informational content in a way that transcends both the scope of mandatory information and prescribed disclosure methods by utilizing such media as its corporate website to enhance the transparency and audience-friendliness of its disclosure practices.
Our Structure for Information Disclosure
Based on provisions of the asset management agreement signed by NMF and Nomura Real Estate Asset Management Co., Ltd. (NREAM), which acts as the former's asset management company, NMF has formulated asset management guidelines to be observed by NREAM in the course of asset management-related activities undertaken on behalf of NMF. These guidelines are intended to secure profit stability over the medium to long term and ensure the steady growth of NMF's assets. NREAM is also obliged to maintain information disclosure in accordance with disclosure policies stipulated by these guidelines. Tasks associated with such disclosure are handled by the Fund Management Department, a NREAM business unit operating under its NMF Investment Management Group.
These guidelines also mandate that NREAM's Compliance Officer directly supervise the disclosure of information associated with NMF assets, requiring that the aforementioned department ask the officer to confirm the accuracy and fairness of the content of information that is subject to disclosure and is deemed critical and requiring his/her review prior to approval. After being approved by the Compliance Officer, such information is eventually disclosed following the confirmation by and approval of the head of the NMF Investment Management Group.
Standards for Information Disclosure
NMF will maintain information disclosure standards in conformity with the following laws, regulations and guidelines.
① The Financial Instruments and Exchange Act and the Act on Investment Trusts and Investment Corporations as well as other laws, regulations, rules and ordinances enacted by national and local governments
② Rules stipulated by Tokyo Stock Exchange, Inc. and other self-regulating organizations
③ In-house rules, regulations and guidelines stipulated by NMF's asset management company In addition, NMF will disclose information that is not required by any of the above if such information is deemed significant to the unitholders' investment judgment, doing its utmost to communicate such information in a timely, accurate and fair manner.
Methods for Information Disclosure
NMF will disclose information specified by relevant laws, including the Financial Instruments and Exchange Act, and the Tokyo Stock Exchange's securities listing regulations via EDINET, a platform run by Japan's Financial Services Agency, and TDnet, a system provided by the Tokyo Stock Exchange for the purpose of communicating information subject to the stock exchange's timely disclosure rules. NMF will also disclose such information through journalistic organizations as well as via its corporate website.
Moreover, when NMF discloses information that is not specified by the aforementioned securities listing regulations as being subject to timely disclosure, it will strive to ensure that method of disclosure sufficiently satisfies the spirit of timely disclosure rules and endeavor to maintain timeliness, accuracy and fairness in the course of disclosing such information.
Investor Relations
IR Schedule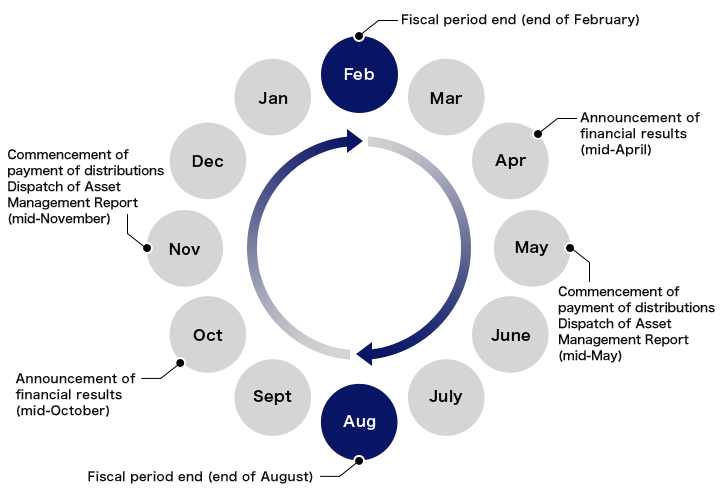 IR Activities for Domestic and Overseas Institutional Investors
・Financial results meeting for analysts and institutional investors in every April and October
・Arranging property tours for investors
・Arranging one-on-one meetings for overseas investors
IR Activities for Individual Investors
・Joined events for individual investors sponsored by ARES
・Joined seminars for individual investors sponsored by securities companies
・Conducted questionnaire for investors enclosed with the Asset Management Report