THE DEER – Brand Concept
MASTER FUND's Brand Movie -THE DEER-
THE DEER – Birth History of Brand Logo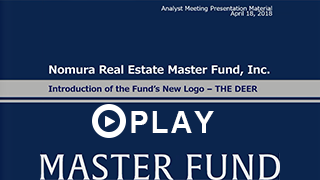 We have launched a new branding strategy with the Fund's
first public offering to express our decision
to become the leading brand of the J-REITs.

Today, we unveil a new fund logo featuring deer associating its characteristics with the Fund.
The Characteristics of THE DEER
Regeneration of Strong Deer Antlers

Symbolizing our resolve for a constant advancement and the number one brand that we seek

Keen Sense of Smell and Agility

Symbolizing our ability to meet the changes in the market environment and to react swiftly

Powerful Leap

Symbolizing our growth potential based on a strong support by Nomura Real Estate Group
The Logo Design of THE DEER
Looking Far Ahead

Our strategies with perceptions and long-term perspectives

Strong Front Leg Pawing Ground

Our clear intention to build a solid performance

We will strive to enhance the fund performance to live up with the expectation and the trust of the unitholders.
February 1, 2018